Biography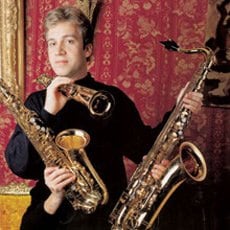 Prize winner of the Foundation Yamaha the same year, he becomes the saxophonist solo of the Orchestra in the Lamoureux Concerts under the direction of Yutaka Sado.
Nicolas Prost plays of the concertos with the Philarmonique Orchestra of Mexico City, European Camerata of London, Orchestre theFrench one, Ausburg Camerata, Musiciens of Pree, Tempo Firstly, Concerts Lamoureux, EC. of Montreal, Orchestre regional of the Limousin, etc. He is dedicatee of more than 40 works: concertos of O Kaspar, G Cagnard, P. Zavaro, T. Pécou etc, parts solo of E Durand, PC Staicu, Mr. Godart, J Matitia, B Hertz, D. Levaillant, G Shapiro etc, trios of T Escaich, T Pécou, A. Annunziatta, B Van Beurden, N. Bacri quartets of L Danceanu, G Beytelman etc.
Nicolas Prost is an enthusiastic defender of the "traditional" repertory of the instrument with the Saxiana Trio formed in 2000 with Anne Lecapelain, saxophone and Laurent Wagschal, piano. Founder member of the Emphasis Quartet of 1987 to 2000, gains with this unit the 1st great Prices of the international contests of Bydgoscz (Poland), Privas, Pierre Lantier, Rome (Italy), overall Musiques Fnapec and is allowed in cycle of improvement to the CNSM of Paris. He occurs in France with the Theatre of the Elysées Fields, dawdling of Rheims, Auditorium German St, Radio France like abroad: Mexico City, Munich, Geneva, Sevilla, Montreal, Seoul, the USA turn, Kyoto, North Africa, Eastern Europe, etc and ensure a great French round with "juggler of its" musical spectacle.
After having obtained the Certificate of aptitude in 1992, Nicolas Prost teaches with the National Academy of area of Saint-Maur, gives public courses in France and abroad and organizes teaching national demonstrations around the saxophone (Festivals "saxophones in festival", contests international, teacher-training courses etc). Nicolas Prost is also an author of many works in teaching matter (editions Billaudot, Lemoine, Fuzeau etc.)