Yamaha assists with remote entrance exams at Freiburg University of Music
Yamaha assists with remote entrance exams at Freiburg University of Music
Meeting the Challenge: New Entrance Exams for the New Normal
Using the Disklavier piano with automatic performance function, a piano in Germany can be played remotely from Japan or China.
Yamaha Corporation has cooperated with Freiburg University of Music (in Freiburg, Germany) to facilitate the entrance examinations conducted on June 10, using our Disklavier™ pianos with an automatic performance function. Yamaha supported these remote entrance exams by connecting pianos in Germany with Japan and China over the Internet, enabling examinees to take practical piano performance exams from remote locations.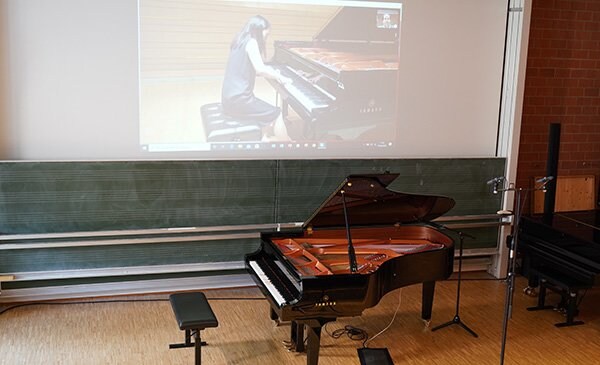 Remote entrance exams held at Freiburg University of Music, Germany

Examination venues (Left: Japan) (Right: China)
Freiburg University of Music is a prestigious international music college, which has trained students from countries and regions all over the world and has produced many renowned musicians since its opening in 1946. Prospective students come from all over the world to take the University's entrance examinations, which are held in June every year and include a practical performance component; however, this year, due to the novel coronavirus outbreak, examinees from other countries faced significant difficulties taking the test locally in Freiburg. To solve this problem, the University introduced remote entrance exams for the first time ever, utilizing the musical instruments and technologies provided by Yamaha to enable practical performance tests of piano playing from remote locations.
This initiative saw 2 students in Japan and 1 student in China take the exam remotely by utilizing the automatic performance and network connection functions of the Disklavier, which is capable of reproducing subtle differences in touch and delicate pedal operations very accurately. By connecting multiple Disklaviers installed at remote locations via the Internet, performance data from each Disklavier can be transmitted and received between the instruments, and delicate movements of the piano's keyboards and pedals as they are played can be faithfully reproduced at a remote location, in near real time. For this practical test, the Disklaviers installed at Yamaha Hall in Japan (Ginza, Chuo-ku, Tokyo), our local branch in China (Shanghai), and the Freiburg University of Music in Germany were interconnected via a network. The performances by the examinees in Japan and China were faithfully reproduced on the far distant piano positioned in Germany and evaluated by the examiners. This was the first time the Disklavier has been used for conducting international remote entrance exams via live broadcast.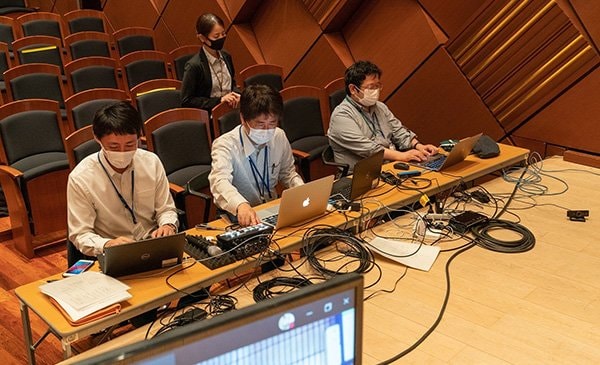 Technical cooperation by Yamaha (Japan venue)
By further utilizing automatic performance technology for sharing the same playing experience across remote locations, we hope to offer solutions to issues such as opportunities lost due to the social environment and geographical restrictions.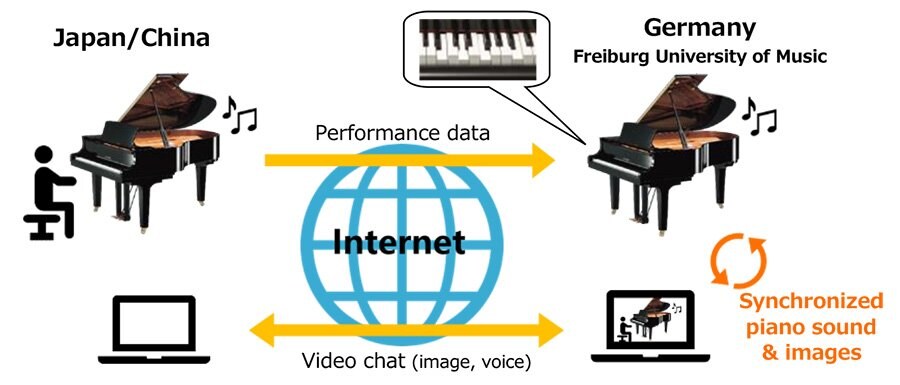 <Comments from Professor Christoph Sischka, Freiburg University of Music>
Because of the Corona pandemic, University of Music Freiburg had to think of new ways to give also pianists the chance to take part in the entrance examination, who are not able to come to Freiburg and play live for the jury. We have been using two Yamaha Disklavier pianos for the past 15 years for the purposes of research and pianistic development with great success. We have had several remote lessons, but this was worldwide the first official entrance examination with live performance via Disklavier. The keys in Freiburg have been moving perfect matched to the video from Shanghai and Tokyo. Though there was obviously a distance of 10.000 km everybody felt as if it was played directly in the auditorium.
The setting was a full success and gives new possibilities in the future for exams, master classes and concerts. It is like the beginning of a new age.
<Comments from examinees>
"Yamaha technology is very mature. What I didn't think of was I'm playing here and there, and I can react on the spot the original part like what I made. Because of this kind of technology this form of examination can be realized."
"I wasn't sure if I'd be able to take the exam at all, due to the coronavirus outbreak, so I'm grateful to Freiburg University of Music and all the people involved for enabling me to take the exam online. I was able to perform just the same as always, without noticing any difference."
"I was worried about whether the online exam would be successful, but when I actually took the exam, I realized that this style of exam is actually an effective option. If online screenings of the Disklavier became an accepted means for playing for overseas entrance exams or music competitions in the future, it really gives a sense of the greater possibilities of globalization."
<Comments from Shiko Atsumi, Yamaha Corporation Piano Division, Piano Marketing & Sales Group>
These entrance exams are conducted to verify and confirm delicate and expressive performances by players, and the Disklavier was successful in providing an effective means for examinees finding it hard to attend exams in person, as it connects locations remotely while reproducing performances with high accuracy. As remote lifestyles continue to receive unprecedented attention, I hope we can take advantage of the Disklavier's ability to faithfully reproduce the face-to-face feeling of live performance to continue trials with music colleges and piano teachers, with a view to using it for general music lessons.
<About the Disklavier™>
A hybrid piano that not only plays as an acoustic piano, but also has an automatic performance function that enables extremely accurate reproduction of delicate keyboard touches and pedal movements using Yamaha's unique high-precision digital control system. In addition to recording and playing back your own performances, you can also play back data recorded at performances and concerts by artists to enjoy the sound of those performances live in your own home.
Previously, the Disklavier was successfully used for remote performances as part of "remote live" events where piano concerts are broadcast live to multiple locations simultaneously, as well as "remote lessons" where piano lessons are held by connecting remote locations. This was the first time it has been used for live performance for international remote entrance exams.
Yamaha assists with remote entrance exams at Freiburg University of Music