Yamaha's Make Waves Interviews: Cesare Picco composer and pianist
Yamaha's Make Waves Interviews: Cesare Picco composer and pianist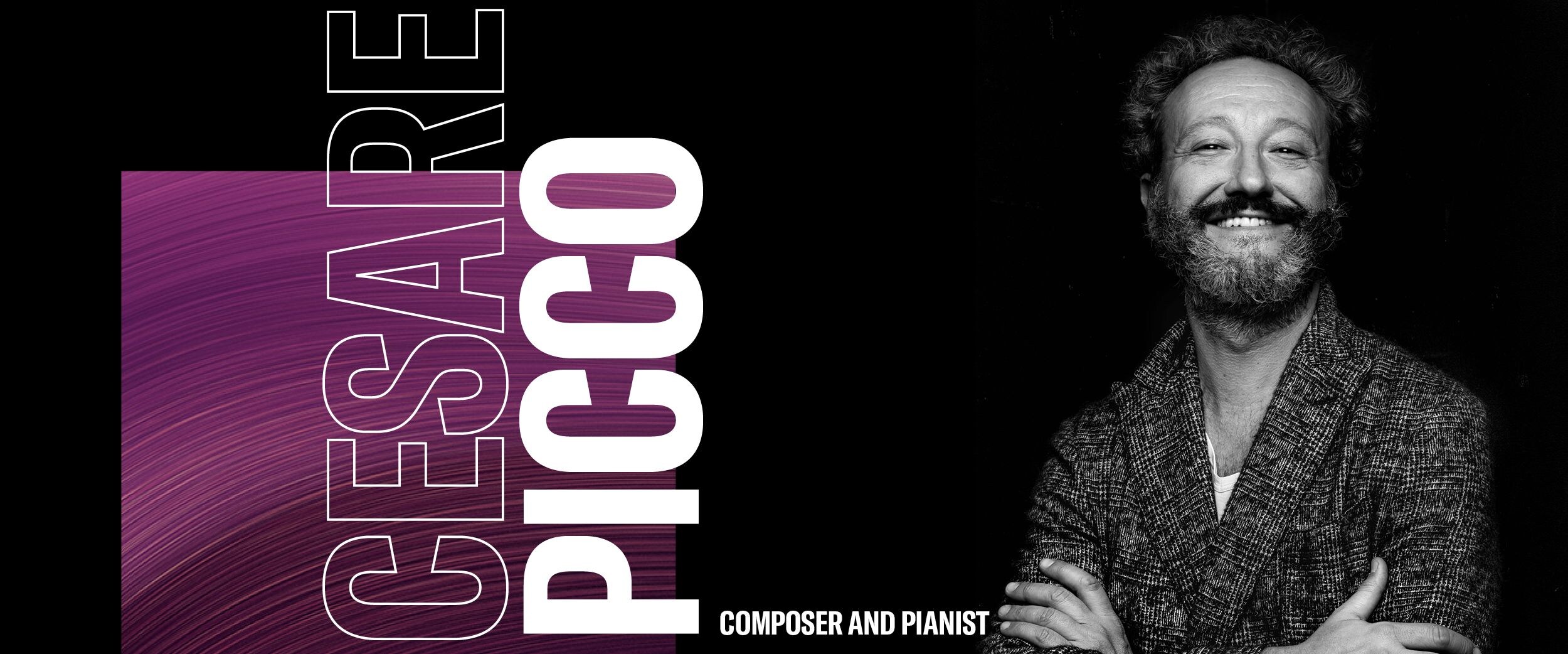 (Credits @ray.tarantino)
Sitting in his Milan home for our chat, Cesare proves himself a facile conversationalist despite not being a native English-speaker. It's instantly apparent that the elements which underpin his innovation are his humility, wisdom and lack of pretension.
Music: A Unifying Force:
Cesare's story illustrates the fellowship we universally share as music fans and musicians. He illustrates that music impacts our lives and is supremely cohesive.
"I grew up in Vercelli, in Northern Italy near the rice fields. You can imagine the horizon there: it's very flat, much fog in winter, it's quite a melancholic, poetic place, "he explains, contemplatively.
Raised in a musical family, Cesare credits his mother with inculcating discipline. "Every day I needed to practice for an hour minimum. Then I could play whatever I wanted after that. She was also my first teacher, when I began age four. Both my parents were non-professional classical players, so there was a grand piano at home. I started to love piano through my mother's approach where she turned piano into a game, music and sounds were there to be discovered and enjoyed. I learnt to recognise all the classical composers on the radio and started to write the musical alphabet before the Italian one."
As a young boy Cesare reimagined the physical structure of the piano as his playtime refuge. "I spent many hours under the piano, transforming that space into my room filled with toys, pillows and blankets. I realised during my adulthood that listening to my father play when I was lying under the piano, left a very special musical imprint: you hear an irreproducible, vibrational sound that way. And now, during my piano masterclasses, I ask students to listen to the piano that way. It's the best way to feel the string vibrations. As pianists, we tend to listen to the sounds we make in front of us. But from underneath it's like hearing piano with headphones on.
Personal Progress:
Personal development comes with time and experience, as does our own musical evolution. When we keep our ears open we can grow our creative skills. Listening to music new to us may be helpful in this regard. Cesare illustrates this through his own experiences.
"Every Sunday," he begins. "I heard my father play at church - he converted to Protestantism before my birth - and we all sang German choral music together. I think my love for Bach grew from that. I played classical music, attending the city music school, also participating in piano competitions."
Despite his natural musical abilities and commitment to developing his craft, Cesare stopped playing briefly. "Maybe I grew bored, so at age eleven I stopped playing piano for about six months. I remember my parents didn't understand that I preferred to play basketball or tennis for that time. However, I continued to listen to many types of music. Through my older brother's albums I discovered Patti Smith, The Ramones, The Police, Genesis, and Caravan -- my favourite."
Cesare was re-energised upon discovering jazz. Once we step outside our comfort zones we maximize our potential to prosper creatively.
"My life totally changed at age 12, listening to a Bill Evans album I found at the discotheque where my father sometimes played," he remembers. "A new world appeared to me listening to the sound of that trio so I went back to the piano, trying to play that way."
Soonafter, Cesare became fluent in new musical rudiments.
"A private teacher, Dante Destefanis, opened my horizons," he remembers. "He taught me counterpoint and composition, and had a piano, organ and harpsichord for lessons. I spent three years of my life among the laws of harmony and many challenging transcriptions. He opened a door in front of my eyes, I learnt to have no musical borders or prejudices. Instead good music was everywhere: Coltrane, Chopin, Bartok, Ravel, Gershwin, Renaissance and Baroque music. I was overjoyed."
After turning professional at age 16, Cesare began collaborating with local players, expanding his musical lexicon through improvisation. "That's a driving force in my music," he enthuses. "It's a very crucial element. People hear the word 'improvisation' and think of jazz. But improvisation has been part of western music for centuries. Improvisation is a longstanding practice, even Chopin used it. For me improvisation remains a key factor in everything I do.
Cesare soon began travelling internationally, further enhancing his musical vocabulary. We too can expand our musical horizons without stepping on a plane these days via listening online or elsewhere, to music we've not previously heard. Cesare's journeys reset his musical aspirations. "They were years of furious curiosity," he recalls. "I discovered more genres to challenge me through travelling. I met South African musicians in Germany with whom I played. My debut at the legendary Ronnie Scott's club in London in 1986 was encouraging. "
His performance took place during an intermission for a Hugh Masekela show. "The audience did not kill me. It was a good sign," he recalls.
Come Together / The Journey to Samarkand:
Music is free of bias or borders. Cesare's travels across the globe informed his playing and creative perspective as he connected with people from various cultures and backgrounds.
"Traveling and experiencing different cultures are my preferred way to make new music." he explains. "I did a special project some months after the 9/11 attacks. At the beginning of 2002 the Muslim world was demonised. I started a project - along with Alberto Giuliani a friend and amazing photojournalist - a musical road trip from Istanbul to Samarkand, half of the Silk Road. I only had a recorder to play with and some Moleskine. Alberto of course had his video and still cameras. Crossing different countries, after some dangerous moments the music truly united us with locals, above prejudices and fundamentalism. We had unforgettable meetings with amazing musicians in Tehran and other stops. Returning to Italy, I composed the music using the sounds of the journey, creating a show with video and photos. The results of this road trip are found in Journey to Samarkand."
Japan further proved to be a creative catalyst for Cesare.
"I was struck by Japanese culture in 2006 when I began to play my music in Japan. I was happily shocked after my sold-out debut at The Blue Note Tokyo, and the love for that country and people is still deeply-rooted inside of me. The result of this is "Tale of Genji", a project for piano and string orchestra. My Japanese-inspired project Spirit of the Piano is a short movie shot during a trip across the Yamaha factories in Japan."
At his core, Cesare is a purveyor of sounds. They fuel his imagination. His inquisitive nature helps him unearth new sounds. "I think sound is the most important of the senses," he explains. "I trust in sound more than words because not only is it my job but I know sound and music are understood throughout the rest of the world, across various cultures and languages."
Cesare noticed a different soundscape in his home city during 2020: Less laughter, less automobiles. The capital became riven with a distinctive shift in energy.
"The sounds in Milano have changed so much," he observes. "Much more silence now, yet the quiet is shattered by ambulance sirens, negative vibrations and a sense of fear. Theatres, clubs, bars and museums are now closed for the second time during this terrible time. Musicians are forced to shed their skin."
Music as a Means of Expression:
Whether we make it, study it, or listen to it, music is expressive. Cesare has made music remotely whilst collaborating with others utilising technology during 2020.
"I asked my team to collaborate - using the web - making music separately, yet together."
Having composed for ballet, opera, theatre and television, Cesare truly grasps the perilous lack of funding for the arts in Italy (and western nations, generally), proffering a relevant viewpoint on this topic.
"It's a tough time for the arts in Italy despite our nation being blessed with so much culture and talent. The free streaming concert is a mockery because music must be paid for. Musicians -- like painters, poets etc. -- need to earn from their work. They should be supported more. Our roles in society should be valued."
The Purity of Sound: The Concert In The Dark:
Considering his appreciation for the transformative possibilities of music, it's no surprise that Cesare conceived Blind Date - Concert in the Dark -- whereby parts of his live piano concerts are immersed in total darkness, forging a uniquely intimate experience.
"In 2009 I devised an idea for these piano-only performances. I wanted people to hear music without any distractions. There is no need for the audience to see me, plus me not seeing the keyboard encourages my improvisation. Just pure sound allowing us to all go deeply inside ourselves. The practice of meditation during my playing in darkness brings me closer to a spirituality of sound at the centre of my music. The important thing was getting the right timing of both light and dark right. So after the audience is seated we take between seven or eight minutes to gradually go from light to dark. I then play in total darkness for 30 minutes. Afterward, we gradually bring back the light, like the sun slowly rising at dawn. Every concert has been so good. I realised from the first show that this experience engenders different meanings for different people."
Social and Ethical Responsibilities:
Because of his ties to both the underprivileged and physically-challenged, Cesare helped form CBM, a charity helping those with sight disabilities in developing countries. (https://www.cbmitalia.org/)
"Yamaha Music Italy has been by my side since 2014 supporting me with CBM Italia, an international developmental organisation devoted to transforming lives of people with disabilities living in poverty. We are so proud to have involved more than 50,000 people with our Italian Blind Date tours. The primary mission of CBM with "Blind Date Concert" events is to improve the sight restoration. There is a type of cataract surgery that we help them get."
There is an obvious and allegorical symmetry with CBM restoring sight and the "Blind Date Concert" bringing light and sound to the forefront with darkness.
Despite his varied achievements Cesare remains humble and grateful. There is a tacit spiritual component within him and his music, making him not only a master musician, but a zen master, too.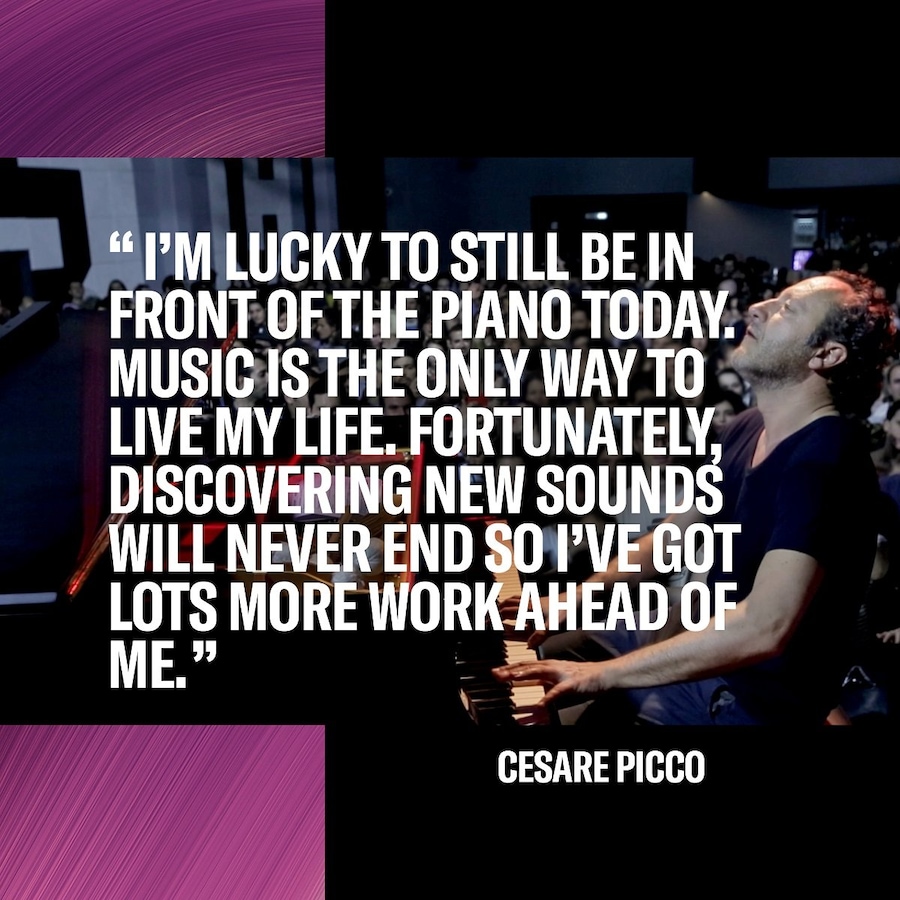 Yamaha's Make Waves Interviews: Cesare Picco composer and pianist