Yamaha Announces Partnership with Yealink for Best-in-Class Video and Audio Collaboration
Yamaha Announces Partnership with Yealink for Best-in-Class Video and Audio Collaboration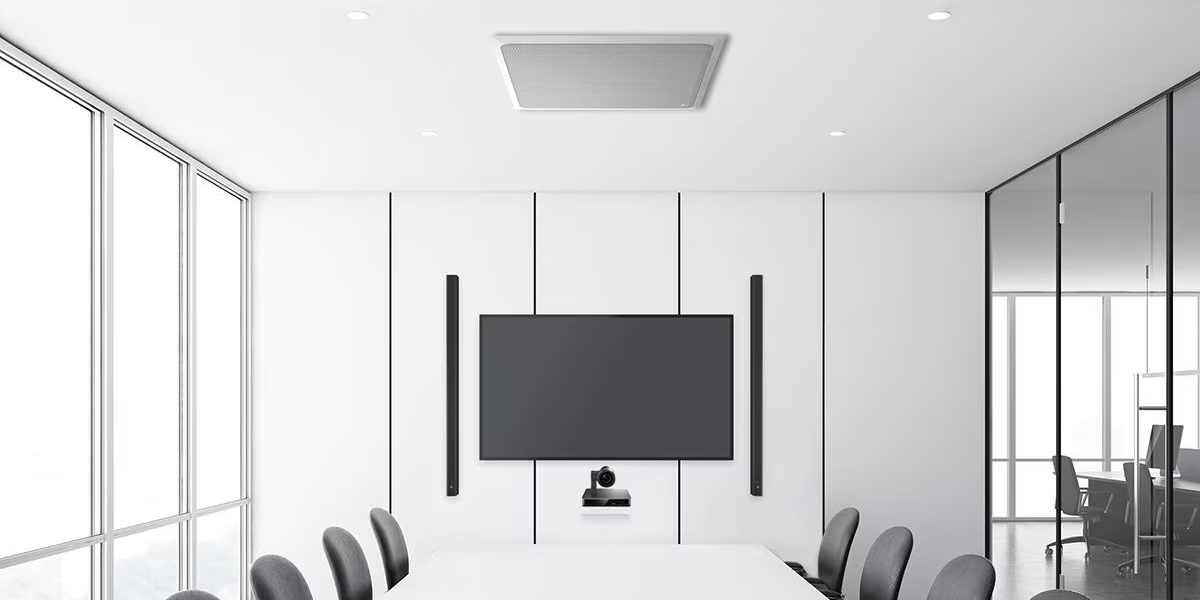 HAMAMATSU, Japan – March 27, 2023 – Yamaha Unified Communications is excited to announce a technology partnership with Yealink to create best-in-class audio and video collaboration for modern meeting spaces, delivering intelligent and effortless hybrid meeting experience.
Yamaha's ADECIA Ceiling Array Microphone RM-CG and Tabletop Array Microphone RM-TT can be combined with Yealink's intelligent cameras and touch panels to enhance audio and video experience further. The joint solution not only enables Presenter Tracking and Speaker Tracking, but also includes technologies like Adaptive Echo Cancel, Automatic Gain Control, Noise Reduction and Dereverberation to give remote attendees an immersive video and audio experience.
"We're very excited to partner with Yealink, a brand that provides exceptional full-line Unified Communications and Collaboration Solutions. We believe the combination of their cameras with our microphones will achieve high quality video and audio experiences." says Nobuo Ikematsu, Senior General Manager of Information & Communication Division, Yamaha.
"Yealink is happy to partner with Yamaha to provide this joint solution that brings more flexibility to our customers when designing their meeting spaces," says Alvin Liao, Vice President of Product at Yealink. "We believe combining our video solution with Yamaha's audio solution empowers teams everywhere to collaborate effortlessly."
About Yamaha Unified Communications
With its unique expertise and sensibilities, gained from our devotion to sound and music, Yamaha is committed to creating excitement and cultural inspiration together with people around the world.
Yamaha's dedicated unified communications department focuses on solutions that enhance communication and help organizations reach their business goals. The audio and video conferencing solutions from Yamaha make collaboration more efficient and increase productivity wherever people work. Yamaha's renowned, quality-driven approach to designing and manufacturing professional microphone systems, conference phones and video soundbars ensures superior audio quality, reliability and flexibility.
Yamaha's Conferencing and Unified Communications products are available both wired and wireless, enabling users to have natural and clear conversations in any meeting room.
About Yealink
Yealink (Stock Code: 300628) is a global-leading provider of Unified Communication & Collaboration Solutions specialized in video conferencing, voice communications, and collaboration, dedicated to helping every person and organization embrace the power of "Easy Collaboration, High Productivity".
With best-in-class quality, innovative technology, and user-friendly experiences, Yealink is one of the best providers in more than 140 countries and regions, ranks No.1 in the global market share of IP Phone, and is the Top 5 leader in the video conferencing market (Frost & Sullivan, 2021).
All trademarks and registered trademarks mentioned herein are the property of their respective owners.
Yamaha Announces Partnership with Yealink for Best-in-Class Video and Audio Collaboration