Yamaha Announces Partnership with Lumens for Enhanced Hybrid Meetings and Events
Yamaha Announces Partnership with Lumens for Enhanced Hybrid Meetings and Events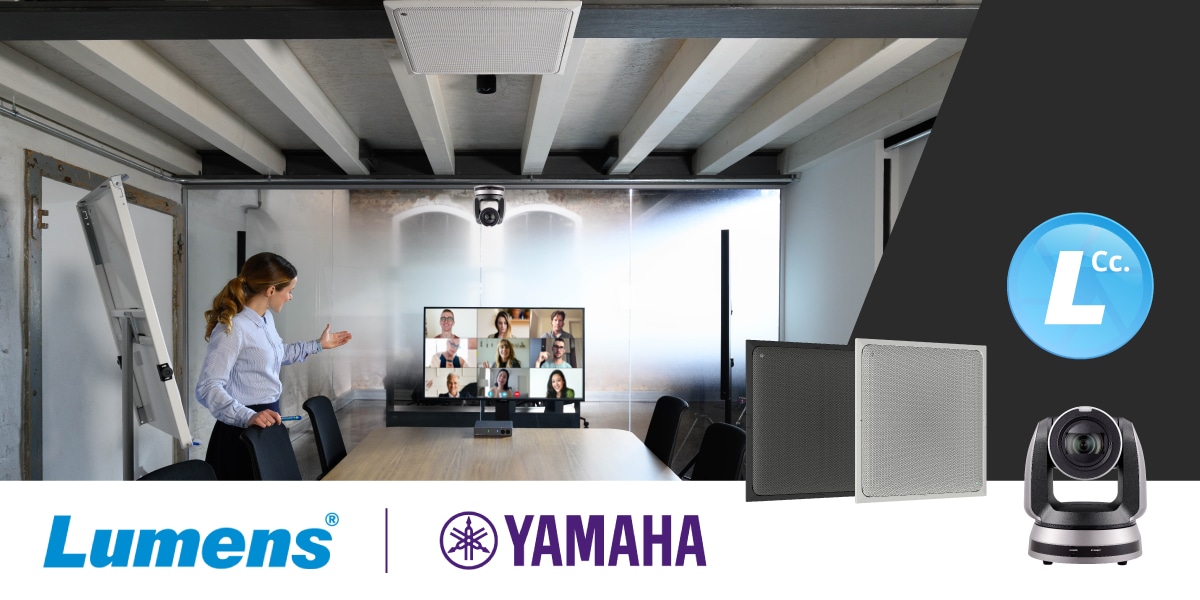 HAMAMATSU, Japan — May 23, 2023 - Yamaha Corporation announces a partnership with Lumens, a leader in optical products.
By combining Yamaha's RM-CG Ceiling Array Microphone with Lumens' CamConnect real-time PTZ voice tracking solution, the organizations have transformed the hybrid meeting and remote event experience by delivering high-quality audio and video which focuses automatically on the active speaker in the room.
Today's remote meeting guests, distance learners and virtual conference attendees expect a seamless audio and video collaboration solution. High-quality sound and a diverse angle shot are needed to provide the best experience for both internal and virtual attendees.
Yamaha's RM-CG Ceiling Array Microphone now pairs with Lumens' CamConnect Lite software to track the active speaker visually and acoustically with the in-room PTZ camera.
This is based on the accurate, real-time directional data supplied by the microphone array of RM-CG. With the camera focusing on the current audio source, remote guests can better interact and immerse themselves with the meeting and students are more engaged in learning.
"We are delighted to partner with Lumens, a brand that offers exceptional video solutions, and we believe that the combination of their cameras with our ADECIA audio solutions will provide a greatly enhanced experience for delivering meeting equity, " says Thomas Hemery, Yamaha General Manager of Global Marketing and Sales, Professional Solutions Division.
"Yamaha and Lumens share a commitment to meeting the needs of our customers. We are increasingly being asked for new technology that seamlessly joins remote colleagues, students and professionals. CamConnect is designed around that goal, and our partnership with Yamaha is another step in delivering true meeting equity." Commented Steven Liang Head of Product Development at Lumens Digital Optics Inc.
About Lumens
Lumens® Digital Optics Inc., a Pegatron Group company, is a leader in optical products. Lumens' product offerings include HD and 4K PTZ cameras, auto-tracking and auto-framing cameras, media processors, IP transmitters and decoders and document cameras. Founded in 1998, the company was created by a team with a deep technological heritage of image processing, video electronics, and optical technology. With the support of the Pegatron Group, Lumens is continuously improving product designs to be used in video studios, live events, classrooms, conference rooms, and for distance learning.
About Yamaha
Since its founding in 1887, the Yamaha Corporation (TOKYO:7951) has developed its business activities focusing on musical instruments, audio products, Yamaha music schools, semiconductors, and other products and services related to sound and music. With our unique expertise and sensibilities, gained from our devotion to sound and music, Yamaha is committed to creating excitement and cultural inspiration together with people around the world. Yamaha's professional solutions products focuses on solutions that enhance communication and help organizations reach their business goals.
All trademarks and registered trademarks mentioned herein are the property of their respective owners.
Yamaha Announces Partnership with Lumens for Enhanced Hybrid Meetings and Events