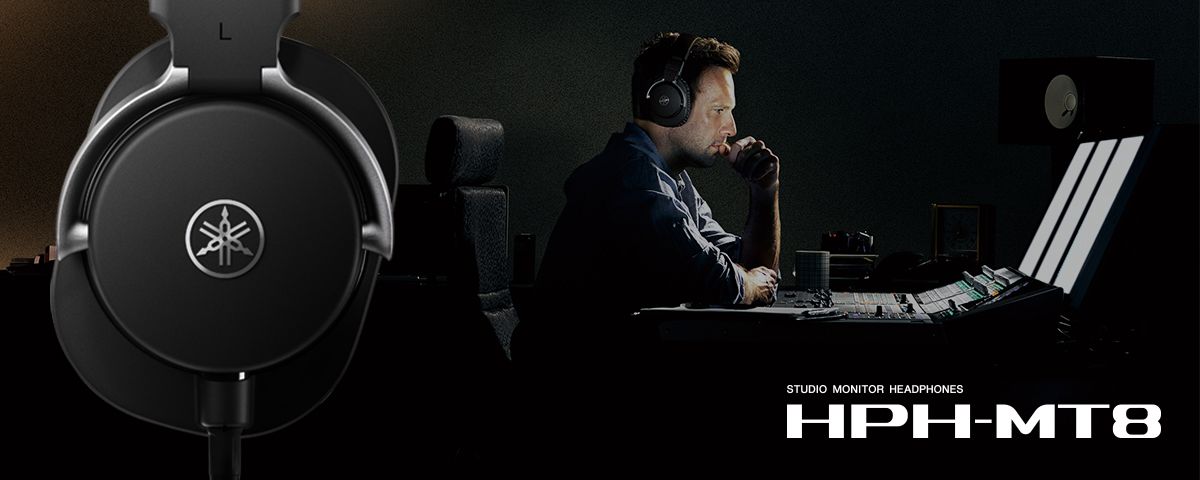 HPH-MT8
Studio Monitor Headphones
A LEGEND TRANSFORMED
It takes a true original to become an industry standard, and since their inception Yamaha's NS-10M studio monitor speakers have become a mainstay of professional studios the world over, renowned for their legendary accuracy. From the NS-10M to the MSP and HS Series, Yamaha has remained faithful to a design philosophy focused on delivering the sonic accuracy that provides sound professionals with the perfect platform upon which to develop and establish their own signature sound. MT Series studio monitor headphones remain true to this fundamental concept, delivering precision sound reproduction that meets the demanding requirements of today's professional studio and monitoring applications.
With unmatched fidelity in a sturdy yet stylish design, and the durability to hold up to the rigors of the road, Yamaha's MT Series headphones offer a level of comfort you'll be thankful for after long hours in a critical listening environment.
HPH-MT8
Studio Monitor Headphones
HPH-MT8 headphones are designed to deliver accurate response and high-resolution sound with precise stereo imaging, and faithfully reproduce every nuance of the mid to high-end with tight bass. Yamaha has applied decades of accrued knowledge and expertise in professional and high-end studio equipment manufacturing to the design of each and every acoustic component in these headphones.
45 mm custom drivers with CCAW voice coils deliver a broad frequency range and accurate response
Closed-back, circumaural design for excellent isolation
Protein-skin leather and large low-resistance cushions ensure stress-free wearability and high levels of isolation
Three-dimensional arm pivot construction and adjustable slider length alleviate fatigue when working for extended periods
Moveable earcups allow single-ear monitoring
Durable ABS housing and rigid die-cast aluminum support-arms for use in the toughest working environments
Folding arm structure and carrying case
Nähtävät värit ja viimeistelyt voivat poiketa lopullisesta tuotteesta