Yamaha CL5 Sparkles on Symphony Tour with Queen Latifah
Yamaha CL5 Sparkles on Symphony Tour with Queen Latifah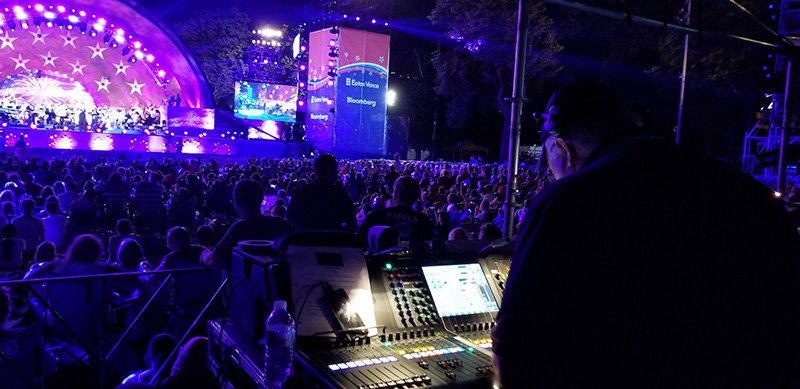 The musical pairing of Queen Latifah and a symphony may sound unusual at first but based on fan response to her recent orchestral concert dates, it's becoming business as usual for the multi-faceted artist and her long-time front-of-house (FOH) engineer, Rob Treloar.
The award-winning rapper, singer, songwriter, actress and producer recently wrapped a mini summer tour playing with symphonies in major markets, including a two-day stop at the legendary, annual Boston Pops Fireworks Spectacular on July 3 and 4. To make her distinctive voice and band's unique style complement the sound of a full symphony, Treloar used his time-tested, trusted FOH tool: the Yamaha CL5 digital mixing console.
"When you think of a symphony gig, you probably think of a hoity-toity crowd," Treloar said. "But that's definitely changing, especially when you add in someone like Queen Latifah with such a larger-than-life personality and fun style. She'll do a beautiful song that slows the audience, then turn it up and make everyone feel like they're at home with their best friend. The crowds love it."
Queen Latifah played with the Boston Symphony Orchestra the past two years and the response from those shows led to an invitation for the 2019 Independence Day extravaganza, as well as requests for tour dates from other major symphonies.
"We've done some wonderful jazz and R&B numbers and even her 90s hits with these different symphonies," Treloar said. "Dontae Winslow [the tour's musical director] surprised her last year with a beautiful, almost cinematic ending to the arrangement of her song U.N.I.T.Y., and she turned and looked at the symphony with an expression of 'wow, this is incredible.' It was a fun night and it's opened up a new niche for her."
Treloar's audio engineering experience covers more than two decades working for production companies and live venues. He's even stretched into corporate events and car shows.
But whether he's mixing concerts or corporate events, most of his work has always been done on some version of a Yamaha mixing console, starting with the PM1D and moving to the CL5 as his current workhorse.
Treloar's last in-house stint led to his current work when a colleague mentioned that Queen Latifah was looking for an FOH engineer. "He recommended me and I made the jump," he said, making his tour debut in support of her 2007 "Trav'lin' Light" album.
Treloar and the Yamaha CL5 have been with Queen Latifah ever since. "I've used the CL5 since it came out, live with her band and also in between her tour dates for corporate gigs," he said.
The digital mixer combines the right blend of ergonomics, layout and capabilities to help him tailor the sound he needs for each type of venue and performance.
"With many consoles, you have to reach deep into menus and that takes up time and distracts you," he said. "On the CL5, I can make a change fast and then get back to where I need to be. The way the faders are laid out, you can have three banks of VCA faders controlling groups of drums, guitars or background vocals. I could have those all in front of me on one layer and then switch between working on each group really fast."
The CL5 also has the right number of features for the work Treloar does. "On other popular consoles, even newer Yamaha models, there are features I just don't need, like more outputs. I'm only mixing two speaker arrays, left/right sub and front fill. I don't need 10,000 outputs.
"The other big thing for me is reliability," he added. "I haven't had any problems since I started using this console. Every concert I've done with Queen Latifah has been successful."
That run of success includes the recent symphonic tour dates, including Boston on July 3 and 4.
During pre-production for those shows, the audio specs originally called for a DiGiCo console at FOH, but Treloar countered with the CL5 to make the show come off as smoothly as possible.
"We knew we'd have a super-tight schedule for set-up and soundcheck," he said. "Stepping into a new console and starting from scratch without a file would have been difficult. When the symphony wants to start, they want to start. They don't want to sit around waiting for audio to get it together."
The venue audio team recognized this potential challenge and a combination of mixing consoles was used for the show, with Treloar using the CL5 for Queen Latifah and her band.
"When you've mixed an act for a long time, your body movements and your fader moves are all so familiar," he said. "You know when a solo is coming, and I know what to reach for instantly. On a new console I'd think, 'wait a minute, where's the guitar?' In that nanosecond, you could blow it."
The only thing blown in Boston were the fireworks.
"Everything was super smooth and just a joy," he said, also crediting the combined audio engineering and broadcast teams from the Boston Symphony Orchestra and their production companies Scorpio Sound and Capron Sound and Lighting: Kevin Delaney, Steve Colby, Clayton Young and Andy Vickery.
"They integrated the CL5 into their entire design, at our request, flawlessly. It was amazing considering the size and complexity of this event and the fact it was broadcast live. The CL5, as always, rose to the occasion."
Treloar noted the CL5's ability to save and easily recall file settings from show to show saves him valuable time and ensures performance consistency.
"I gave them my file before set-up so they could load it and check everything," he said. "When I arrived, everything was ready to go for rehearsal. The CL5 makes my job so much easier. It always translates perfectly from one venue to the next, with only minor adjustments needed each time. When the PA system is great like it was in Boston, it's even that much better. Sometimes, a venue's sound system might be so-so and I'll have to EQ and tweak more. In this situation, the band was on stage for soundcheck, I got the faders up, made minor gain adjustments and I was instantly right where I wanted to be."
Treloar has seen console trends change and evolve from analog to digital and to a current focus on software and plug-ins. He described those as useful tools, but sound and ergonomics will always be his top considerations.
"What I've always liked about Yamaha digital consoles, especially the CL5, are the ergonomics and the workflow," he said. "If I need to make a change, everything is right at my fingertips. You can get to everything fast and that's what you need in a live situation. I'm a 'listening' guy. I'm all about working fast on a console and using your ears."
He also doesn't feel the need to rely on many plug-ins, preferring to use the CL5 as is.
"I've had this discussion with my production manager, Scott '7' Hamilton, who will ask why I don't use any of the newer plug-ins," he said. "I simply haven't felt the need to because the onboard capabilities of the CL5 are already enough for me to get my work done."
Another recent date on Queen Latifah's tour schedule found Treloar using a new Yamaha digital mixing console: the RIVAGE PM10. "The venue asked if I'd like to use it and I said I'd be happy to, confidently knowing the Yamaha file conversion program would transfer my files from the CL5 to the RIVAGE PM10 seamlessly."
But even as newer models become available, Treloar will always keep the CL5 in his inventory.
"I don't want to give it up," he said. "It's like a really good car you know will always work. The CL5 sounds incredible. It makes my ears happy every time."
Yamaha CL5 Sparkles on Symphony Tour with Queen Latifah