The Ultimate BB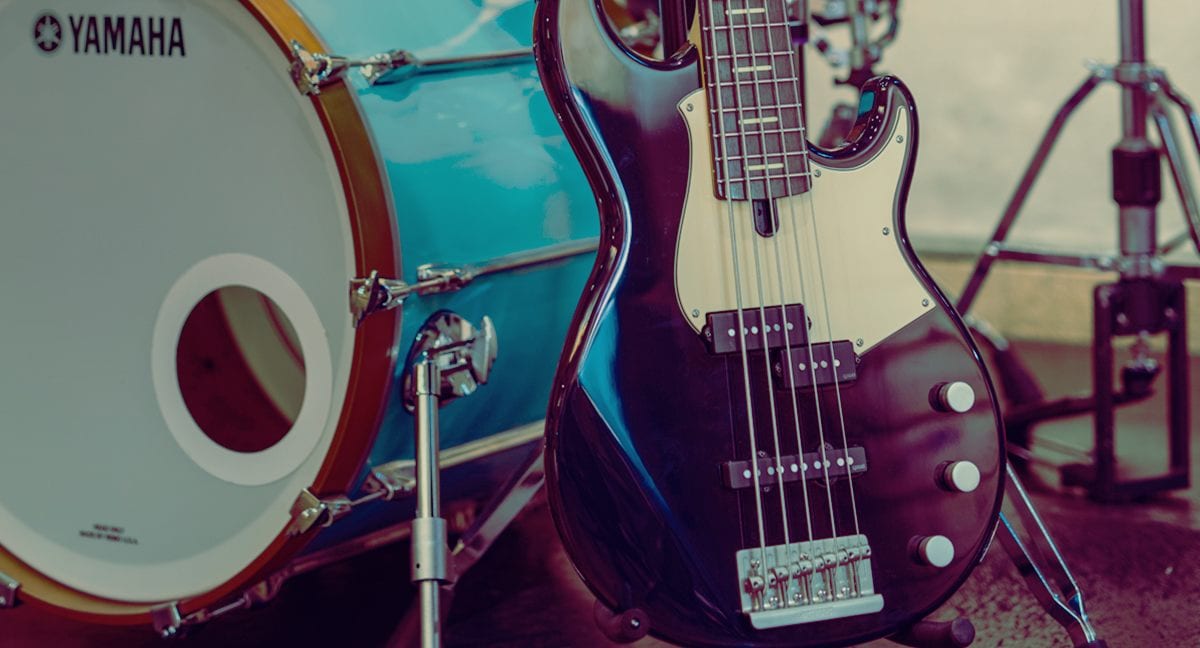 BB Professional basses represent the pinnacle of the series and are the result of four decades of evolution and innovation to serve discriminating bass guitarists.
Carefully crafted by our master artisans in Japan, BB Professional models feature alder/maple/alder body construction enhanced by our Initial Response Acceleration (I.R.A.) treatment, providing a foundation for rich, organic tone and powerful resonance.
With custom-wound pickups, a refined 5-piece neck, and much more, the BBP34 and BBP35 represent the very best of the BB lineup.
Yamaha BB Series Demo | BBP34
Yamaha BB Series Demo | BBP35
Alder/Maple/Alder Body Construction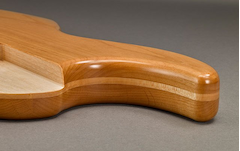 The latest BB Professional models feature alder/maple/alder laminated body construction. The hard maple center increases body stiffness and accentuates midrange to cut though a band mix, and allows a more uniform transmission of vibration between the body and neck, resulting in exceptional resonance and sustain.
6-bolt Miter Neck Joint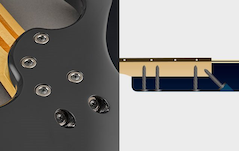 Miter bolting holds the neck closer and tighter to the body, fusing these two separate components into one.
Compared to a conventional bolt-on joint, miter bolting offers more efficient transfer of string vibration throughout the body, for outstanding sustain and resonance that brings every note to life.
YGD Custom V7 Pickups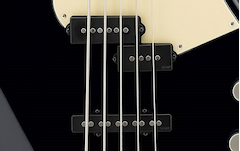 Alnico magnets produce a thick yet penetrating tone that works in combination with the unique body construction to deliver an organic, well-defined sound.
Convertible Bridge and Saddle for Precise Tone Shaping: Vintage Plus Bridge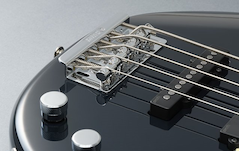 BB Professional models feature our Vintage Plus bridge, which allows stringing through the bridge or body. Strings pass through the body at a 45-degree angle, which places less stress on the strings than traditional vertical through-body stringing, while efficiently transferring string vibration to the body.
Long-scale strings are recommended when stringing through the bridge and super long-scale strings are recommended when stringing through the body.
Convertible brass saddles offer two angles for precise shaping of tone and feel. The rounder side produces a slightly softer sound, while the more angled side produces a slightly tighter tone.
The brass saddles deliver deeper low-end and the steel bridge plate adds brightness. All screws and springs are stainless steel to guard against corrosion.
5-Piece Neck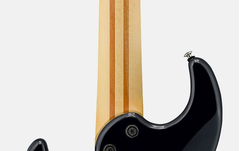 The latest BB Pro models features a 5-piece maple and mahogany laminated neck, in a bolt-on design that delivers a sharp attack, and quick response. This durable construction resists warping and twisting and combines the tight, penetrating character of maple with the warmth of mahogany.
Nec Shape
The latest BB models feature a slightly thinner neck than previous BB basses, improving playability and feel for both modern and traditional bassists.
Lightweight Tuners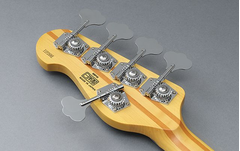 Lighter-weight tuners offer better balance and complement the overall feel, providing a perfect match for the smaller, lighter body of the latest BB.
Initial Response Acceleration (I.R.A.)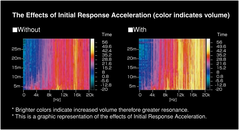 Any bass benefits from being "played in," a process in which the instrument matures and opens up as the stresses between the wood and finish, neck and fingerboard, and body and hardware are released, resulting in better sound and playability.
Yamaha's exclusive Initial Response Acceleration process releases those stresses by applying specific vibrations to the completed instrument as part of the crafting process, resulting in a "played in" bass from day one.
Made in Japan, this is the ultimate BB, featuring an Alder/Maple/Alder construction treated with Yamaha's unique IRA technology, a six-bolt miter neck joint, and a diagonally strung convertible bridge.
Alder/maple/alder body construction
6-Bolt Miter Neck Joint
5-Piece neck
YGD custom V7 pickups (Alnico V)
Vintage Plus Bridge with convertible bridge and saddles
Lightweight open-gear tuners
I.R.A. treatment
Made in Japan
The 5-string version of the BBP34.
Alder/maple/alder body construction
6-Bolt miter neck joint
5-Piece neck
YGD custom V7 pickups (Alnico V)
Vintage Plus Bridge with convertible bridge and saddles
Lightweight open-gear tuners
I.R.A. treatment
Made in Japan