Before installing DKC-900, please note the following: 
The AccuPlay functionality of Disklavier Enspire PRO will not be installed. 
Floppy discs or CDs are not compatible with the DKC-900. Please enjoy 500 new songs (included for free) or purchase and download thousands of additional songs from the Yamaha Musicsoft library. You can also subscribe to Piano Radio, which provides access to 30 different music channels 24/7. A monthly or annual subscription is required. 
Piano performances that you have recorded on your Disklavier will be erased when you install the DKC-900. 
Please back up your data on a USB drive beforehand. 
For wireless internet connection via UD-WL01, a wireless network router (2.4 GHz ready) with WPS functionality is required. You can also access the internet via Ethernet cable. 
Headphones output will be changed from 6.3mm to 3.5mm. 
For more details, please ask your dealer.
Thousands of Performances In One Masterpiece
The DKC-900 allows you to revel in whatever music suits your mood or occasion, from classical solo piano or concerto selections to your favorite jazz or pop songs on piano – accompanied by audio and vocals. An easy-to-use and intuitive UI design provides direct access to 500 built-in songs* and thousands of performances that can be downloaded directly to the instrument from the Yamaha MusicSoft online store.
Exclusive Streaming Services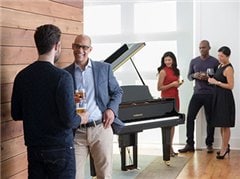 The DKC-900 also offers streaming radio services, allowing you to discover and enjoy thousands of piano performances in the comfort of your own home. Yamaha Piano Radio gives you instant access to over 30 channels of 24-hour streaming piano music.
*Built-in songs include 380 piano solo songs (PianoSoft Solo), 72 songs with instrumental accompaniments (PianoSoft Plus), and 48 songs with audio backing (PianoSoft Audio).
Artistic Excellence In Your Living Room
The DKC-900 features popular, award-winning and legendary Yamaha artists such as Sarah McLachlan, Bob James, and Jamie Cullum*. These performances are not simply a rendition of the artist's songs, but exclusive performances by the actual artists themselves, recorded specifically for Yamaha Disklavier. Experience the genuine touch, nuance and emotion as the instrument recreates a precise portrayal of the artist's intentions.
*Songs you can enjoy with audio (PianoSoft Audio) are totally 48 songs. And 13 of them are by Yamaha artists such as Bob James, Jamie Cullum, and Sarah McLachlan.
Effortless Integration
Wireless network connectivity and seamless compatibility with mobile devices, smartphones and computers allows intuitive access to all of the instrument's exclusive content and unique capabilities.
Technologically Discreet, Acoustically Elegant
A streamlined control panel allows for simple tactile control while remaining hidden from view, providing the elegant look one would expect from a finely crafted Yamaha acoustic piano.