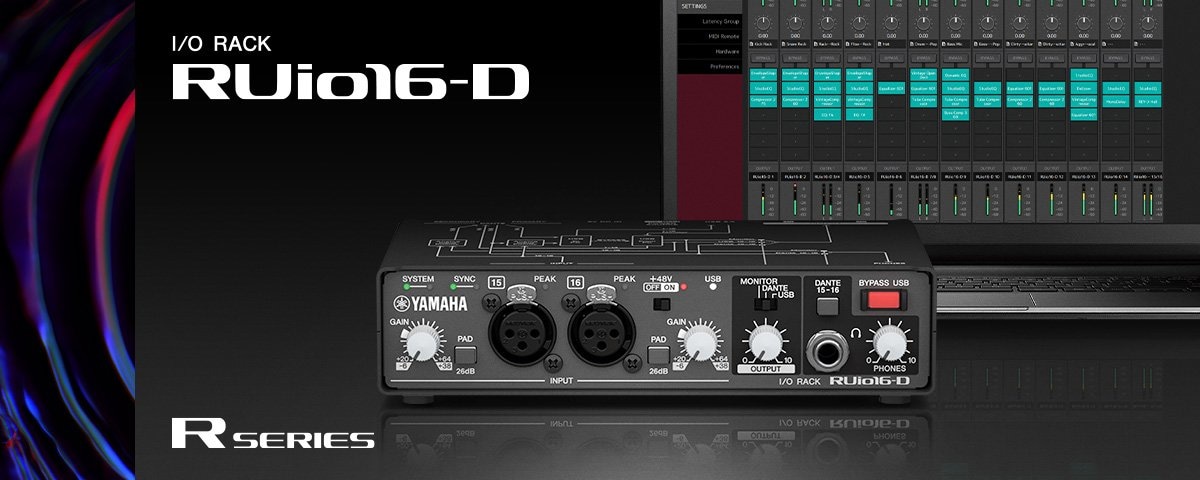 Engineers, meet your newest partner.
The RUio16-D is a revolutionary audio interface that features a compact form while still being rugged enough to withstand the needs of touring, serving as a bridge between Dante, analog, and USB signals. Combining this product with the bundled VST Rack Pro plug-in host software creates a plug-in environment that gives users a great deal of freedom and makes it easy to integrate the VST plug-ins you like into your system. This unit features a variety of input/output jacks, and is useful in a broad range of situations such as outputting computer-processed audio to a mixer via Dante, acoustic measurement, and much more.
This unit also offers a high level of stability in case a problem occurs with your computer, as the unit bypasses the audio processing on the plug-in side to prevent any trouble that might stop the sound on the entire system. We're bringing a new kind of plug-in solution to our users that lets them freely use the VST plug-ins they like in a flexible and safe way.
This I/O rack offers Dante, USB and analog input/output jacks and ports, and is useful in a wide range of situations. Use this product in conjunction with the bundled VST Rack Pro software to create a flexible, stable plug-in environment.
Analog: 2 inputs, 2 outputs
Dante: 16 inputs, 16 outputs
USB: 18 inputs, 16 outputs
Bypass switch for preventing unexpected issues
Rack-mountable (using the M4-size screw holes on the underside of the product)
Dimensions (W×H×D): 180 x 42 x 121 mm (7.1" x 1.7" x 4.8")
Weight: 1.0 kg (2.2 lbs)
Nähtävät värit ja viimeistelyt voivat poiketa lopullisesta tuotteesta