Biography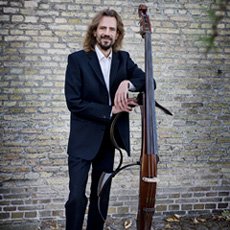 Whilst studying classical double bass in Copenhagen, New York and Odense, Andreas Bennetzen got into the avantgarde and electronic music scene. Although he was already working as a classical double bass player in symphony orchestras and also as a soloist, Andreas felt the need to find his own true voice with the instrument.
In 2005, 2 years after his Konzerteksamen, he got his hands on his first electric-upright bass arriving just one day before he had to perform in front of an audience of 2 million viewers on a televised show live in Tivoli, Copenhagen and was to be the 'first' test.
This first 'test' was so successful that he decided to start exploring the possibilities offered by electric string instruments and effects as much as he could. Equipped with a loop machine and multiple effects, Andreas started creating and performing his own `Cross-Over` music. From this, he started working with other artist and artforms and slowly developed his own sound.
In june 2009, he released his solo debut album ´Flowing in Circles´ under the alias 'Andy Benz'.
The mix of classical music and modern technology has taken him to many places around the world and led to many interesting partnerships. Over the years he has worked with: Efterklang, Halfmachine, Pharfar, L.O.C, Art-Attac, Clemens, Katrine Ring, Steen Koerner, Stine Kinck, Keld Heick, Poeten & Lillebror, Schwelle 7, among many others.
Andreas Bennetzen plays a Yamaha SLB-100 Silent Bass.