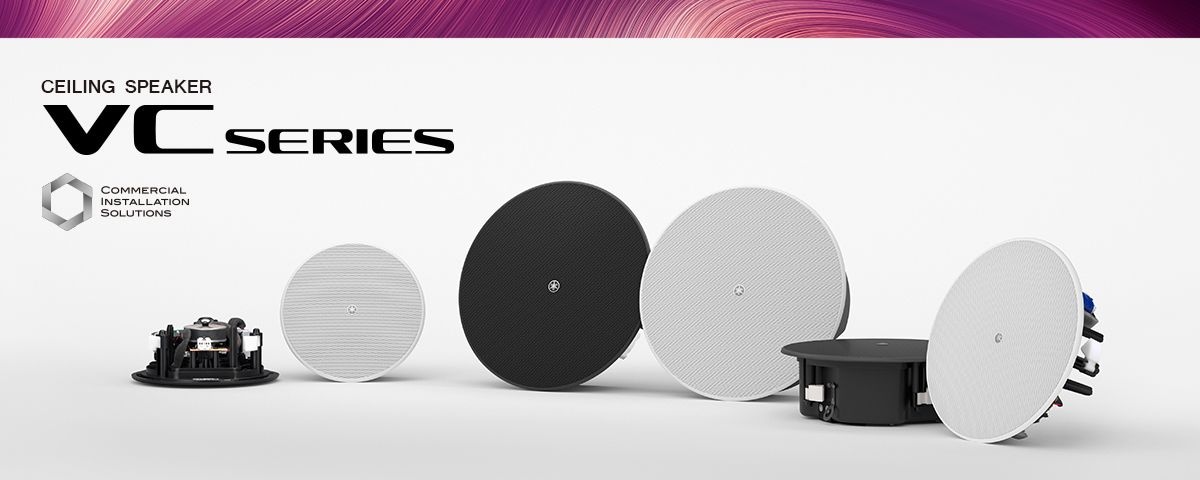 Premium Sounding Compact Ceiling Speakers at a Non-Premium Price.
VC series ceiling speakers for commercial installations deliver excellent sound quality at a price point traditionally reserved for economy speakers. A total of six models, three with back cans and three without, feature elegant low-profile designs that can be install easily even in limited ceiling or wall spaces. Large mounting clamps with non-slip treads ensure secure mounting.
Recommended Applications
Wide coverage area with many speakers installed, such as shopping mall, office buildings, restaurant, healthcare facilities, and transportation terminals.
VC8B / VC8W
Ceiling speaker
2-way system with 8-inch woofer and 1-inch tweeter
Engineered for optimum BGM and voice reproduction
Low-profile design allows installation in limited ceiling spaces
Direct support for low-impedance or high-impedance connections
16Ω in low-impedance is advantageous when connecting multiple speakers in low impedance system
Built-in carrying band increases safety during installation
Double-threaded speaker clamp screws for speedy tightening
Paintable grilles with magnetic catches
Black and white versions available
4.2 kg (9.3 lbs), Ø325 x D122 mm (Ø12-3/4" x D4-6/8")
Single unit package
VC6B / VC6W
Ceiling speaker
2-way system with 6.5-inch woofer and 0.8-inch tweeter
Engineered for optimum BGM and voice reproduction
Low-profile design allows installation in limited ceiling spaces
Direct support for low-impedance or high-impedance connections
16Ω in low-impedance is advantageous when connecting multiple speakers in low impedance system
Built-in carrying band increases safety during installation
Double-threaded speaker clamp screws for speedy tightening
Paintable grilles with magnetic catches
Black and white versions available
3.3 kg (7.3 lbs), Ø286 x D106 mm (Ø11-2/8" x D4-1/8")
Single unit package
VC4B / VC4W
Ceiling speaker
2-way system with 4-inch woofer and 0.8-inch tweeter
Engineered for optimum BGM and voice reproduction
Low-profile design allows installation in limited ceiling spaces
Direct support for low-impedance or high-impedance connections
16Ω in low-impedance is advantageous when connecting multiple speakers in low impedance system
Built-in carrying band increases safety during installation
Double-threaded speaker clamp screws for speedy tightening
Paintable grilles with magnetic catches
Black and white versions available
2.1 kg (4.6 lbs), Ø225 x D95 mm (Ø8-7/8" x D3-3/4")
Single unit package
VC8NB / VC8NW
Ceiling speaker
2-way system with 8-inch woofer and 1-inch tweeter, no back can
Engineered for optimum BGM and voice reproduction
No back can low-profile design allows installation in limited ceiling spaces
Direct support for low-impedance or high-impedance connections
16Ω in low-impedance is advantageous when connecting multiple speakers in low impedance system
Double-threaded speaker clamp screws for speedy tightening
Paintable grilles with magnetic catches
Black and white versions available
2.8 kg (6.2 lbs), Ø325 x D131 mm (Ø12-3/4" x D5-1/8")
Single unit package
VC6NB / VC6NW
Ceiling speaker
2-way system with 6.5-inch woofer and 0.8-inch tweeter, no back can
Engineered for optimum BGM and voice reproduction
No back can low-profile design allows installation in limited ceiling spaces
Direct support for low-impedance or high-impedance connections
16Ω in low-impedance is advantageous when connecting multiple speakers in low impedance system
Double-threaded speaker clamp screws for speedy tightening
Paintable grilles with magnetic catches
Black and white versions available
2.3 kg (5.1 lbs), Ø286 x D114 mm (Ø11-2/8" x D4-4/8")
Single unit package
VC4NB / VC4NW
Ceiling speaker
2-way system with 4-inch woofer and 0.8-inch tweeter, no back can
Engineered for optimum BGM and voice reproduction
No back can low-profile design allows installation in limited ceiling spaces
Direct support for low-impedance or high-impedance connections
16Ω in low-impedance is advantageous when connecting multiple speakers in low impedance system
Double-threaded speaker clamp screws for speedy tightening
Paintable grilles with magnetic catches
Black and white versions available
1.4 kg (3.1 lbs), Ø225 x D103 mm (Ø8-7/8" x D4-1/16")
Single unit package
C-ring + Tile Rail kit for VXC2F, VC4B, VC4W
Optional use for VXC2F, VC4B, VC4W in-ceiling installation
The other VXC series F models (VXC5F, VXC3F) come with O-ring + Tile Rail kit
Nähtävät värit ja viimeistelyt voivat poiketa lopullisesta tuotteesta