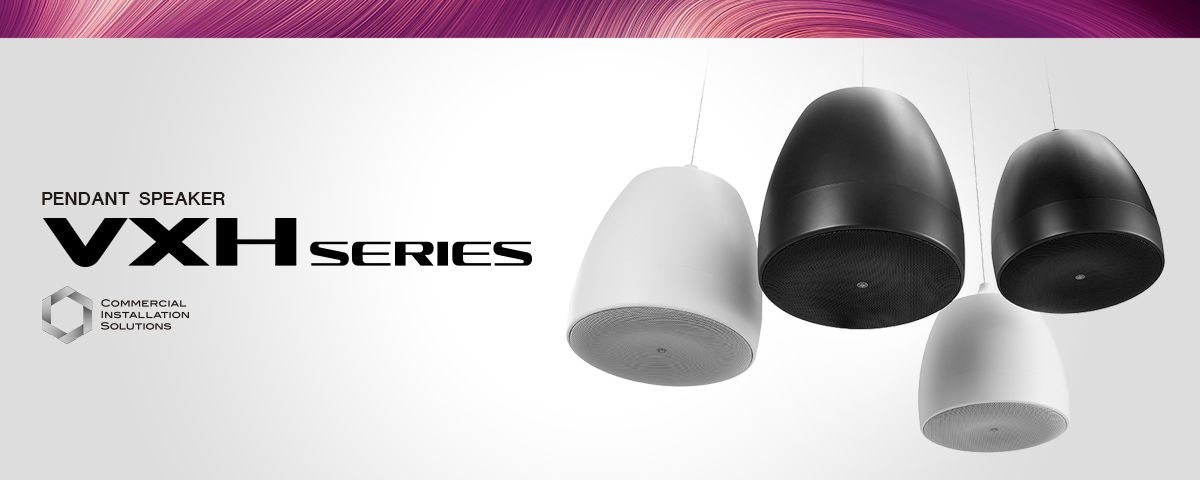 Stunning sound from any ceiling
VXH series pendant speakers are an ideal choice for open-structure or sloped ceilings, adding versatility for a variety of environments and sonic needs.
Two models are available: the wide-dispersion 6.5-inch VXH6 for use where the speakers are to be suspended at a relatively low position, and the high-power 8-inch VXH8 with narrower dispersion for higher suspension positions. You can select or mix and match models to achieve the best sound and coverage in any application.
Recommended Applications
Installations for high-ceiling, huge space and open structure or sloped ceiling such as amusement facility, Large hall sales floor, gymnastic hall and other design-conscious restaurant, clothing store,etc.
Amusement Facility (Aquarium)
VXH8B / VXH8W
Pendant Speaker
2-way system with 8-inch woofer and 1-inch tweeter
Narrow dispersion (75°) with "permeable" waveguide and 360W power handling
Engineered for optimum BGM and voice reproduction
Pendant speaker suitable for high, open structure or sloped ceilings
Direct support for low-impedance or high-impedance connections
Paintable grilles with magnetic catches
2 x 6 m steel wire cables by Gripple
Black and white versions available
7.2 kg (15.9 lbs), Ø356 x D434 mm (Ø14-1/64" D17-3/32")
Single unit package
VXH6B / VXH6W
Pendant Speaker
2-way system with 6.5-inch woofer and 1-inch tweeter
Wide dispersion (120°) and 300W power handling
Engineered for optimum BGM and voice reproduction
Pendant speaker suitable for high, open structure or sloped ceilings
Direct support for low-impedance or high-impedance connections
Paintable grilles with magnetic catches
2 x 6m steel wire cables by Gripple
Black and white versions available
5.7 kg (12.6 lbs), Ø340 x D368 mm (Ø13-3/8" D14-1/2")
Single unit package
Nähtävät värit ja viimeistelyt voivat poiketa lopullisesta tuotteesta