Restaurants / Bars [Indoor]
A powerful PA system featuring a powered mixer and portable, lightweight loudspeakers suitable for live band music performance in an indoor restaurant or bar that requires high quality sound even on a limited budget.
- A powered mixer and 2x passive speakers for front of house sound, and 1 powered speaker for monitoring.
- High output power 2 x 710W. [Powered Mixer EMX7]
- Speaker Preset function allows you to select the CBR preset to optimize speaker performance and reduce setup time. [Powered Mixer EMX7]
- A rugged, highly portable cabinet. [Loudspeaker CBR]
- Powered speakers for bigger bands to use as monitors. [Powered loudspeaker DBR12]
| Category | Model Name | Qty |
| --- | --- | --- |
| Mixing Console | EMX7 | 1 |
| Power Amplifier | - | - |
| Main Speaker | CBR12(Loudspeaker) | 2 |
| Subwoofer | - | - |
| Monitor Speaker | DBR12(Powered Speaker) | 1 |
System
Powerful & High Efficiency Class-D Amplifier
The EMX7 features a built-in high-efficiency power amplifier of 2 x 710W of output power. Despite their low power consumption, these amps are capable of very high volume output, yet still manage to remain surprisingly lightweight. The model also comes equipped with an onboard overload protection function to improve reliability and prolong component life and performance quality.
Speaker Processor and Preset
The speaker processor function allows you to select an appropriate setting to match the particular speakers you're using. It features presets specifically tuned for each model in Yamaha's extensive lineup of passive speakers, including CBR series. This allows users to optimize speaker performance and save even more time during system setup. It also includes a bass boost function that can be enabled to significantly bring out the lower frequencies.
Highly Portable Enclosure Design
CBR Series speakers feature a very compact, durable, and lightweight plastic cabinet equipped with newly designed, ergonomic handles that greatly minimize system transport and setup.
EMX7
Box-type robust and portable powered mixer
710 W + 710 W (4 Ω), 500 W + 500 W (8 Ω) power output
Max. 8 Mic / 12 Line Inputs (8 mono + 4 stereo)
High-Z input (channel 4) to connect guitars or basses directly
Flex 9 Graphic Equalizer
Onboard Feedback Suppressor
High-grade effects: SPX with 24 programs
Yamaha Speaker presets for optimized setting
CBR12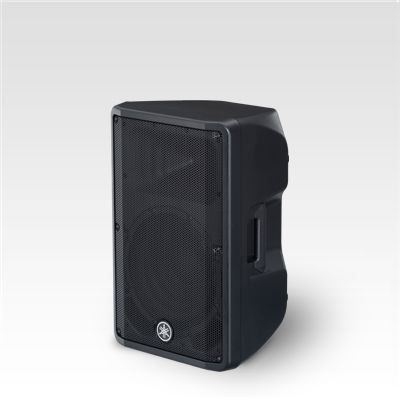 12" 2-way loudspeaker
Maximum SPL 125dB peak
Durable Plastic enclosure
Compact and lightweight 13.9 kg (30.6 lbs)
Integrated M8 rigging points for suspended applications
Optional Brackets (BBS251, BCS251, BWS215-300, BWS251-400) and Speaker Cover (SPCVR-1201)
DBR12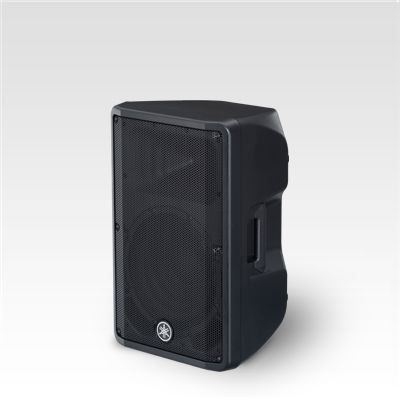 12" 2-way powered loudspeaker
1000W Class-D amplifiers
Maximum 131dB SPL (peak)
D-CONTOUR multi band dynamic processor
Easy-to-use Onboard 2-Channel Mixer
Compact and lightweight (15.8kg / 34.8lbs) with durable Plastic enchosures
Floor monitor angle
35mm Pole Mount Socket
Integrated M8 rigging points for suspended applications
Optional Brackets (BBS251, BCS251, BWS215-300, BWS251-400) and Speaker Cover (SPCVR-1201)
PA Application Guide | Yamaha Commercial Audio