Indoor Parties / DJ events [Mid-size]

Despite its portability, minimal connectivity and setup, and ease of use, this PA delivers enough output power to play recorded music at mid-sized indoor parties or DJ events for an audience of up to 300 people depending on seating/venue size.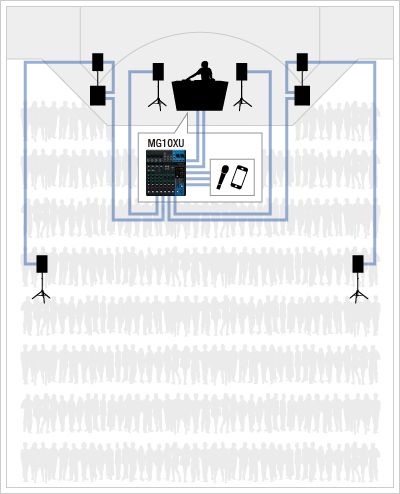 - Powerful PA system capable of livening up any party/DJ event with 2x powered speakers and a subwoofer for audience coverage, and 2x powered speakers for DJ monitoring.
- High-quality reverb and delay add natural depth and vibrancy to the sound with remarkably natural feel. [Mixing console MG10XU]
- Versatile multi-purpose 2-way active loudspeaker system featuring the D-CONTOUR intelligent dynamic control feature for consistent clarity at any output level. [Powered speaker DSR112]
- Penetrating 18" subwoofers capable of reproducing very low frequency, bass-heavy music with precision and clarity. [Powered subwoofer DXS18]
| Category | Model Name | Qty |
| --- | --- | --- |
| Mixing Console | MG10XU | 1 |
| Power Amplifier | - | - |
| Main Front Speaker | DSR115(Powered Speaker) | 2 |
| Main Rear Speaker | DSR115(Powered Speaker) | 2 |
| Subwoofer | DXS18(Powered Speaker) | 2 |
| Monitor Speaker | DSR115(Powered Speaker) | 2 |
System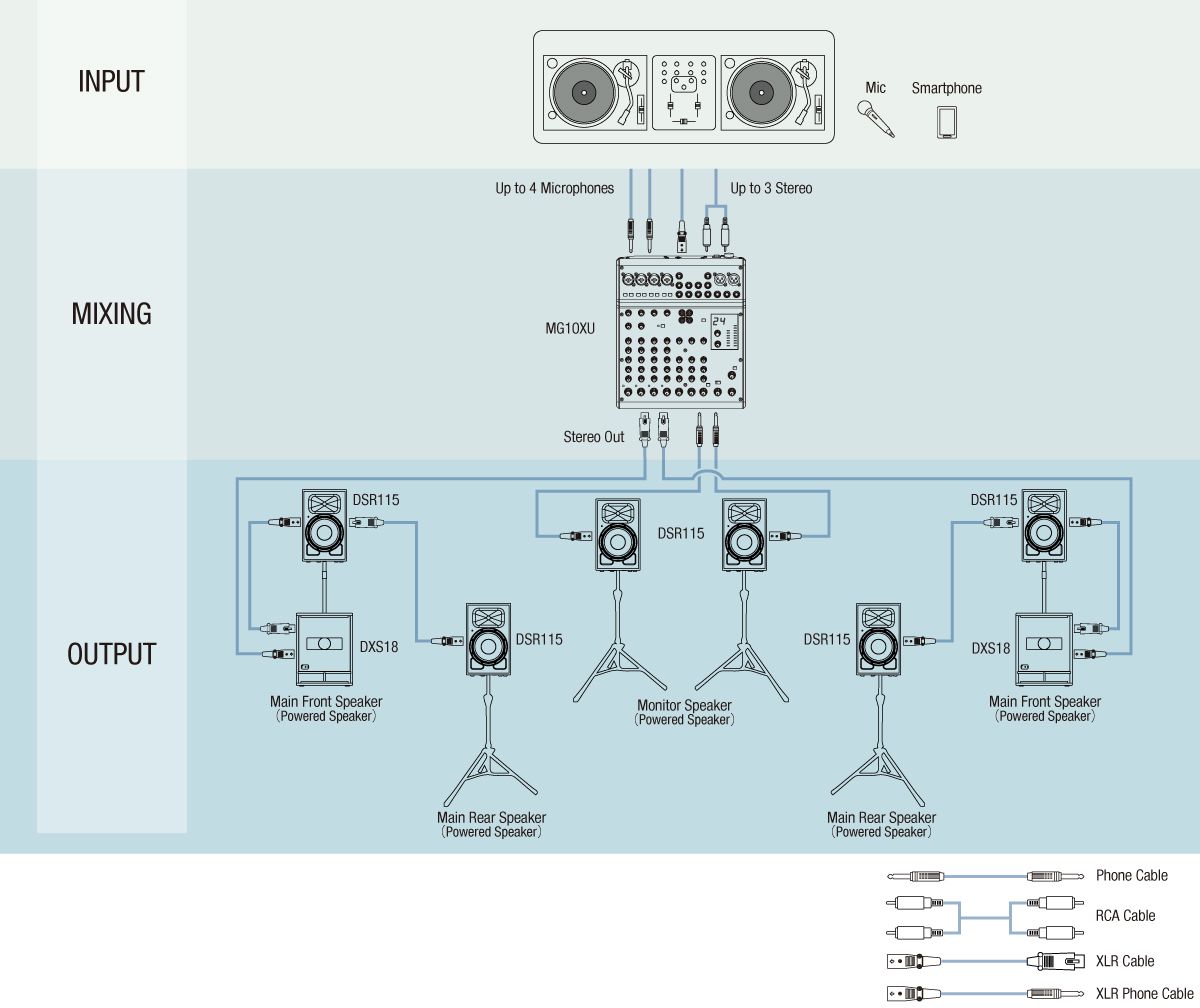 1-knob Compressors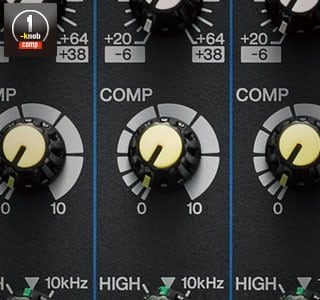 Compression plays an essential role in just about any recording or sound reinforcement environment by altering the level of dynamics of an audio signal when you need livelier guitars, punchier bass lines, a tighter snare, or a cleaner vocal sound. However, it can take countless hours to master the complexities of even the most basic outboard compression units and use them effectively. Originally a Yamaha innovation, 1-knob compressors are now an industry standard that gives you instant access to optimized compression settings via a single rotary control.
EQ and High-pass Filters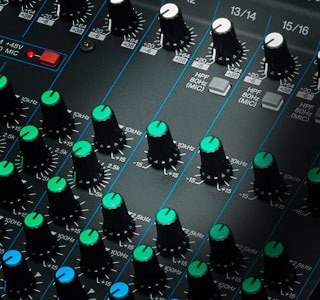 There's nothing more useful than reliable equalization when you need nuanced management of your tone. The MG10XU benefits from Yamaha's unparalleled experience in designing pro audio gear, featuring 3-band equalizers on all mono channels for precise control of your sound. High-pass filter allows you to eliminate unwanted low-frequency noise, for a smoother, cleaner mix.
D-XSUB Bass Processing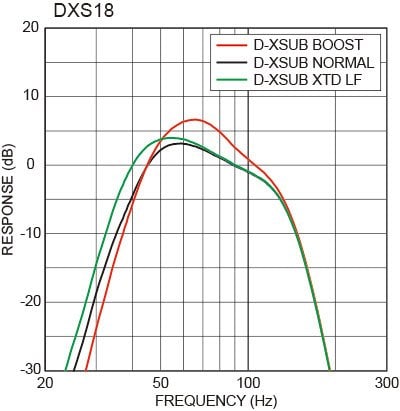 Powerful D-XSUB processing gives you total control of your low frequency. NORMAL mode gives you the ideally balanced low-frequency response, while BOOST mode provides a more tight and focused bass. XTENDED LF mode drops the low-end frequencies down even further for thunderous bottom end that delivers. Take your full-range system to the next level with the power and versatility of DXS Series active subwoofers.
Optional Wheel Kit (Option)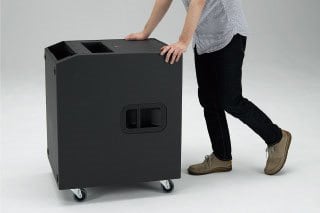 For more fast and convenient setup of your DXS18 subwoofers, optional wheels are available, featuring radial ball bearings that ensure quiet during your performance.
*Only for DXS18 (SPW-1)
MG10XU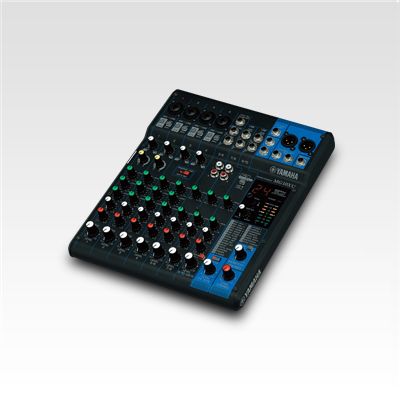 10-Channel Mixing Console
Max. 4 Mic / 10 Line Inputs (4 mono + 3 stereo)
1 Stereo Bus / 1 AUX (incl. FX)
1-Knob compressors
High-grade effects: SPX with 24 programs
24-bit / 192kHz 2in / 2out USB Audio functions
MG REC/PLAY, Cubase AI and Cubasis LE available
DSR112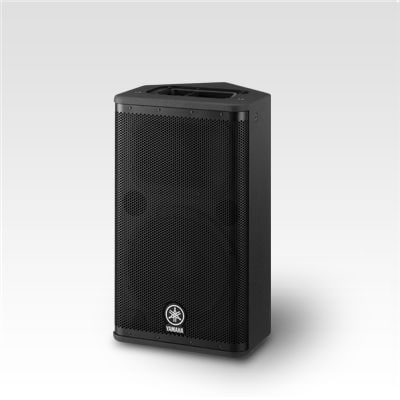 12" 2-way powered loudspeaker
1500W Class-D amplifiers
Maximum 134dB SPL (peak)
D-CONTOUR multi band dynamic processor
Compact and lightweight (21.2kg / 47lbs)
Floor monitor angle
Durable wood enclosure with LINE-X® finish
Stand and pole mountable, with 35mm pole sockets
Integrated M10 rigging points for suspended applications
DXS18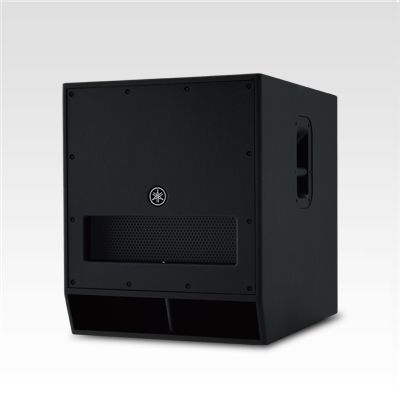 18" powered subwoofer
1020W Class-D amplifiers
Maximum 136dB SPL (peak)
Frequency Range 32Hz-120Hz
D-XSUB Bass Processing
Cardioid Mode for low frequency control
Compact and lightweight (49.7kg / 110lbs)
Durable Plywood enclosure with LINE-X® finish
35mm and M20 Dual Pole Socket
Optional Speaker Cover (SPCVR-18S01)
PA Application Guide | Yamaha Commercial Audio