Biography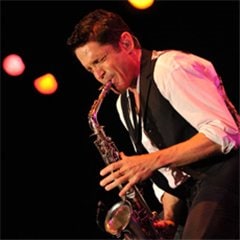 Canadian born tuba player Dave Kutz, holds the position of solo tuba with the Netherlands Philharmonic Orchestra in Amsterdam. Arriving in The Netherlands in 2002 to work with the Radio Symphony Orchestra, Dave has since performed with virtually every major ensemble in the country including numerous engagements with the Royal Concertgebouw Orchestra, Concertgebouw Orchestra Brass, Asko|Schönberg Ensemble, Radio Kamer Filharmonie, Radio Filharmonic Orchestra, Metropole Orchestra, Rotterdam Philharmonic, Residentie Orchestra, as well as many international orchestras such as Zürich Opera Orchestra, Royal Flemish Philharmonic, Singapore Symphony, and the National Arts Centre Orchestra in Canada.
Dave is a Yamaha International Artist and and Lätzsch Cimbasso performing artist.
Away from the back row of the orchestra, Dave is actively creating projects as a proud member of Splendor Amsterdam as well as for the Netherlands Philharmonic Brass and Brass Quintet, also appearing as soloist when time permits. Dave has performed recitals on four continents and has been a guest artist at the International Tuba and Euphonium Conference, the Ottawa Chamber Music Festival and the Holland Festival in Amsterdam. His 2015 debut solo CD Pure Imagination with pianist Gerard Bouwhuis and Chamber Consort Amsterdam was met with excellent reviews.
An energetic and successful educator, Dave holds the title of Doctor of Music from Northwestern University in Chicago and has studied with Rex Martin, Gene Pokorny, Dennis Miller, Nicolas Atkinson, and the late Arnold Jacobs. Before moving to The Netherlands, Dave served on the music faculties of several universities in the United States and Canada; currently he is active as a teacher, ensemble coach and audition mentor throughout The Netherlands.
Other Brass & Woodwind Artists