Biography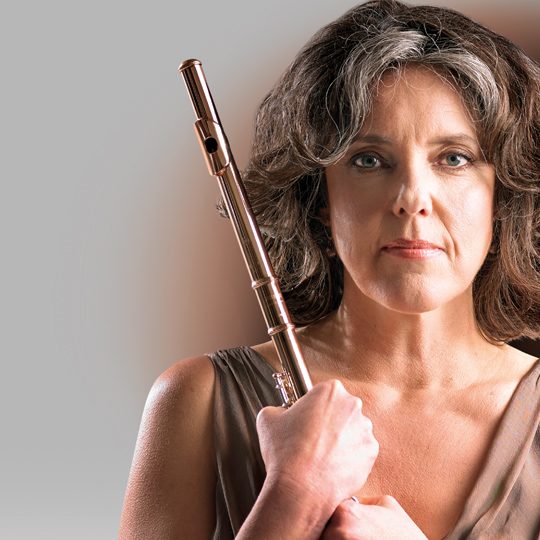 Lisa's overriding passion for the stage is evident in concert, classes and adjudications for festivals. She grew up on a pig farm in Western Canada, and fed on all kinds of music, from opera to rock to jazz. She makes many venues her stage, and thrives on sharing the energy that performances can generate. Her performing career is diverse: as well as solo and orchestral appearances, Aquilae Duo is her exciting partnership with solo harpist Eleanor Turner. She is a member of The Harborough Collective, a chamber ensemble led by internationally acclaimed violinist David Le Page. Enigma14 is a trio comprised of flute, cello and piano, where Lisa performs little-known chamber works with Julian Metzger and Paul Turner. Lisa's concerts and masterclasses have featured in venues throughout the UK, Canada, the United States, Hong Kong, and most recently the Republic of Ireland. She's appeared as a guest artist at Aberystwyth MusicFest, Flutissimo in Germany, Adams Flute Festival in The Netherlands, Swaledale Festival, Orebro Flute Festival in Sweden, Canterbury Festival, Sounds New, Deal Festival, Leicester Music Festival, Jackdaws Music Trust, Aldeburgh Festival, Banff Festival of the Arts and Musicamrose in Canada, as well as The British Flute Society Convention and Flutewise Barbican Events in London. Yamaha Canada took Lisa back to her roots in January 2017 where she gave concerts across the Prairies, Montréal and Toronto. Lisa's newest post is as a teacher and coach at the Junior Department of Guildhall School. Lisa was a member of the British Flute Society Council for 10 years.
As a champion of contemporary music and composers, and a lover of all types of music, Lisa has taken every opportunity to premiere solo and ensemble works while a member of Continuum Ensemble, new london chamber ensemble and now Aquilae, The Harborough Collective and Enigma14. Each dedicated their concerts to introducing works with high integrity and cutting-edge ideas. Several pieces commissioned through the groups were premiered by Lisa, including Kenneth Hesketh's solo work Gabo's Opus (recorded by BBC Radio 3), and ensemble works by Errolyn Wallen and Roger Smalley. Lisa also gave first UK performances of Lowell Liebermann's Flute Sonata, Eric Tanguy's Further and Shulamit Ran's East Wind. Her other 'first performance' credits include works by Roderick Watkins, Paul Max Edlin, Malcolm Forsyth, Rob Buckland, Arlene Sierra, Sean Fergusson, José Evangalista, Isabelle Panneton, Claude Vivier, Olé Schmidt, Douglas Finch and Julian Andersson.
From 2000 to 2007 Lisa was an Artistic Director for the Harrogate Flute Kitchen Summer School, where she lead masterclasses and gave concerts. Lisa was a founding member of the group new london chamber ensemble and enjoyed 10 years of fantastic concerts and workshops, including performances with pianist, Angela Hewitt, and joint concerts with the Danté Quartet in the Swaledale Festival and at Wigmore Hall. They became one of the first wind quintets to stage Luciano Berio's opus number zoo, and included it in most of their progammes. The group released a recording of Carl Nielsen's Quintet, using a newly edited score of the piece. Yearly educational events included coaching the National Youth Chamber Orchestra.
In recent years Lisa has been asked to be a judge at music festivals and contests, adjudicating at Kiwanis Festivals in Canada, several ProCorda Chamber Music Festival competitions, the Marlborough College Music Festival, the Music Festival at Cheltenham Ladies' College, and Leigh on Sea Festival for the third time! A highlight in 2010, Lisa was THE judge at the House Shout at Marlborough College. Putting on her stage-performer's hat, she was entertained by 14 boarding houses' vocal ensembles, each with 76 members, and each performing a musical selection that everyone had to sing. Lisa is a successful mentor in performance skills for sessions which include the summer brass academy at Guildhall School, adult amateur musicians at Benslow Music Trust courses and coaching with ensembles from string quartets to orchestras.